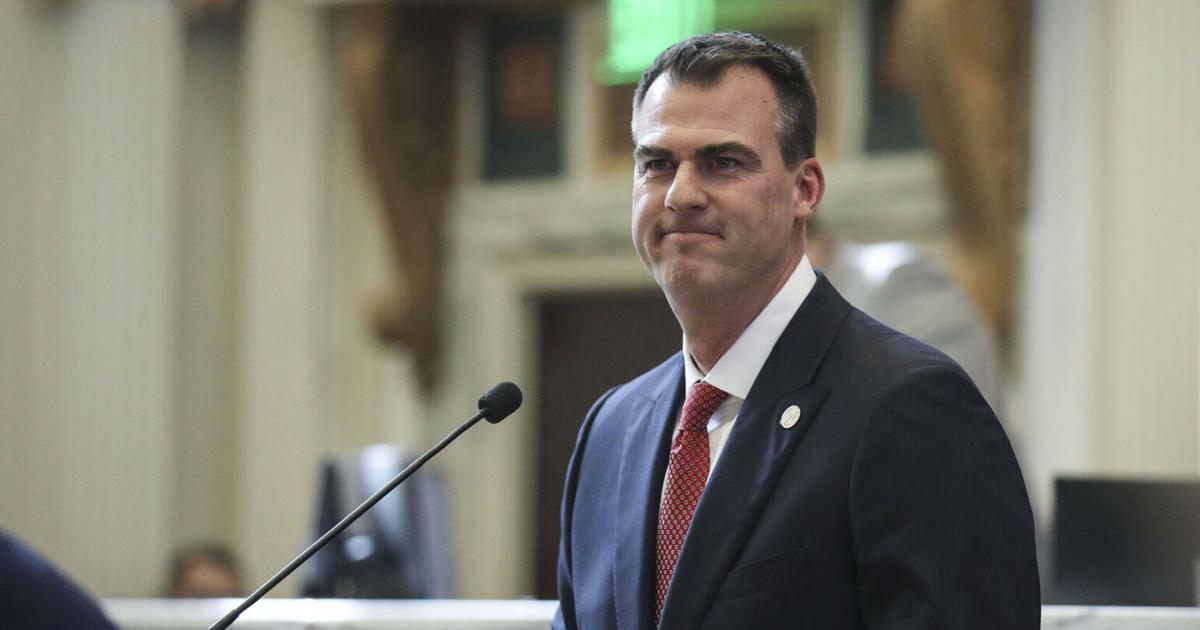 Stitt reelection campaign expands its financial advantage | Govt-and-politics
Campaign finance quarterly reports filed over the weekend underscore the financial difficulties of challenging an incumbent.
The reports show that Gov. Kevin Stitt's reelection campaign had spent more than all of his challengers combined had raised through the end of March, and the gap appears to be getting wider.
Check out our latest digital-only offer and subscribe now
Stitt reported contributions of $1.25 million for the period, compared to almost $370,000 for his closest rival, Democrat Joy Hofmeister. Five other candidates reported contributions of less than $40,000; most of that was actually out-of-pocket expenses that Republican Mark Sherwood counted as in-kind contributions.
A sixth candidate, Republican Joel Kintsel, did not begin his campaign until after the March 31 end of the reporting period.
Stitt, who spent around $5 million of his own money and more than $10 million all told to win a tough election in 2018, so far has spent $1.9 million — all of it from other people — on his reelection bid.
By comparison, Hofmeister has raised a total of $904,000 since announcing her candidacy in the fall. The other five candidates reported contributions of $350,000, but that includes $160,000 former state Sen. Ervin Yen transferred from his legislative campaign and $55,000 worth of in-kind contributions reported by Sherwood.
Sherwood's cash contributions were only $42,000 for the election cycle.
Stitt's contributions came mainly from Oklahoma but with substantial support from out of state, especially Texas and Florida. Oil and gas, construction and medical were particularly prominent sectors on his report.
Stitt reported spending $451,000 last quarter and $470,000 total with Brabendercox, a top-of-the-line video production and consulting company for services and media buys.
Other expenditures include $225,000 to Targeted Victory, a Washington-based digital consultant; $185,000 to a Minnesota company for printing and postage; $138,000 to campaign manager Donelle Harder's company; $66,000 for "compliance consulting," $171,298.51 to Absolute Resource Development, a Tulsa-based fundraising firm; and $68,000 to Anedot, an online fundraising and processing platform.
No one, including Hofmeister, can come close to that kind of firepower.
But somebody is spending a lot of money against Stitt. Two ostensibly conservative dark money groups, Sooner State Leadership Fund and Conservative Voice of America, are running bareknuckle spots attacking Stitt.
Reportedly, the Sooner State Leadership Fund is willing to spend up to $10 million to defeat him.
But no one has acknowledged funding the groups, and no real primary challenger to Stitt has emerged.
Stitt has also received some outside help, including spots paid for by the National Republican Governors' Association.
Featured video: Gov. Stitt signs near-total abortion ban: "We want Oklahoma to be the most pro-life state"
Your opinions on Gov. Kevin Stitt: A collection of letters to the editor
Letter: Wouldn't it be nice if we had a real governor?
Wouldn't it be nice if Oklahoma had a governor who understood American history and the Constitution?
Wouldn't it be nice if Oklahoma had a governor who didn't use citizens' tax money for his own political agenda?
Wouldn't it be nice if Oklahoma had a governor who didn't treat health care like a political football?
Wouldn't it be nice if Oklahoma had a governor who knew the history of Native American tribes in Oklahoma and understood the legal relationships between them and the state?
Wouldn't it be nice if Oklahoma had a governor who believed that Black lives matter regardless of Oklahoma's endemic racism?
Wouldn't it be nice if Oklahoma had a governor whose economic theory included concern for all of Oklahoma's citizens and not just those who own big businesses? There is no "trickle down" in Oklahoma.
Wouldn't it be nice if Oklahoma had a governor who wasn't afraid of Donald Trump?
Wouldn't it be nice if Oklahoma had a governor who supported public schools?
Wouldn't it be nice if Oklahoma had a real governor?
Letter: More moderate leaders needed to save Republican Party
My daughter teaches in the Tulsa Public School system and she had expressed surprise that any Republican, including Hofmeister, would be so supportive of educational issues, made even more urgent during the recent pandemic.
Currently, political moderates have no chance of winning most Republican primaries and Democrats offer the only moderate candidates in statewide races. In her current position as state superintendent, Hofmeister's support for education and health issues has often placed her at odds with our governor and a majority of Republicans.
The Tulsa World relates that former Gov. Brad Henry feels a kinship with Hofmeister and her moderate candidacy, as she seeks to defeat our erstwhile governor, who ran a positive campaign, but has since governed like an uncaring extremist.
In a recent New York Times guest essay and an NPR interview, former New Jersey Republican Gov. Christine Todd Whitman asks disaffected Republicans to back centrist Democrats. Likewise, when progressives cannot win, she has called for Democrats to support center-right candidates. According to Whitman, the survival of the Republican Party, as we have known it, is a stake and ultimately centrists must prevail.
Next year, Oklahomans will have a clear choice for governor: Vote for a common sense candidate like Hofmeister or retain an extremist like Stitt.
Letter: State lawsuit against vaccine mandate a waste of money
Yes he can! It is a public safety program.
Oh, how we would love for all to help us live a normal life again.
Letter: Gov. Kevin Stitt not anti-mask, he's anti-mandate
Unless the Tulsa World can point me to a statement by Gov. Stitt that shows he is anti-mask, I will have to conclude the Tulsa World's bias made it to the front page.
To my knowledge, Gov. Stitt has always encouraged anyone who wants to wear a mask or feels safer wearing a mask can by all means wear a mask, anywhere, anytime.
Gov. Stitt, like many state governors, merely objects to mask mandates. Since he is the governor, he can choose to not demand the use of masks.
Please, Tulsa World, reference something that Stitt has said that backs up the headline where he "still looks to block masks." Someone just reading the headline will walk away thinking Gov. Stitt is anti-mask, which he isn't.
Letter: Stitt's stance on workplace regulations, vaccinations wrong
In contrast to Gov. Kevin Stitt's statement, "I don't believe it is the government's job to dictate polices to private companies," the government has done this for decades through the Occupational Safety and Health Administration in order to maintain safety in the workplace.
OSHA issued an emergency technical standard for health care industries for COVID-19 in June. It says that the law "requires employers to furnish to each worker employment and a place of employment, which are free from recognized hazards that are causing or are likely to cause death or serious physical harm."
Many Oklahoma employers, including Tulsa Public Schools, have adopted standards to protect their employees, students and customers despite Gov. Stitt. Let's protect our friends and neighbors. Let's recover the notion of personal responsibility where everyone does what they can.
Letter: Gov. Stitt distorting true record on education
Typical Republican denial, distortion and dishonesty regarding the damage they have done to Oklahoma over three decades was on full display in their response to State Superintendent Joy Hofmeister's leaving the party to run for governor on the Democratic ticket.
Among the more outlandish claims of Stitt's campaign manager, Donelle Harder, were these:
"After decades of politicians leaving us in last place, Stitt has us progressing towards Top Ten in critical categories," and "the state has increased funding of public education to record highs and enacted another teacher pay raise, all while lowering taxes."
These carefully chosen comments are typical Republican misinformation that cherry picks isolated positive news (one year of teacher pay raises and increased funding of public schools) while dismissing, ignoring or otherwise concealing the much larger picture, in this case, Oklahoma's standing among the 50 states on teacher pay and state funding of public education.
Readers are urged to go online and check these two topics to learn the real truth about Republican support of public education in Oklahoma for over three decades. Not only are we not progressing toward Top Ten rankings on either of these issues, we don't even rank in the top half of the nation. Do not be surprised if you learn we rank in the bottom half of the bottom half; in the bottom quarter on both of them.
If we keep buying their propaganda, it will ultimately have us at the very bottom of the nation on most critical issues.
Letter: Tulsa World shares blame for Stitt's shortcomings
It is entirely unsurprising and was entirely predictable. He focuses entirely on himself and his own profit, building a network that our state will take decades to dismantle.
The World, and its editors, contributed to this situation. I call for new leadership on the editorial team. This is necessary. When leaders exhibit terrible judgment, they should be removed and new voices put to the forefront. The Tulsa World can improve its standing in the community and rebuild its lost credibility by acknowledging its part in the harm to our state and working to improve its editorial judgment by removing each editor that helped put this terrible man in office.
Check out our latest digital-only offer and subscribe now