Top Chef is back with another stellar group of talented cooks competing to be crowned the winner of Season 19, receive $250,000, a feature in the FOOD & WINE magazine, and an appearance at the annual FOOD & WINE Classic in Aspen.
But as only one contestant can win, chefs will be eliminated throughout the competition, as they are tasked with creating delicious meals in a series of thrilling challenges. For Season 19 of the Bravo cooking show 15 chefs from across America compete in Houston, for the very first time.
Episode 1 of the new season, which aired Thursday, March 3, kicked off with a quickfire team challenge. The cooks were asked to create one dish, with each team member getting 10 minutes to contribute to the meal individually.
The team who won the quickfire challenge would be free from elimination. However, there was a catch, as team members were not allowed to speak to one another. Newsweek has all the details about the first challenge of the season, including who left the show in week one.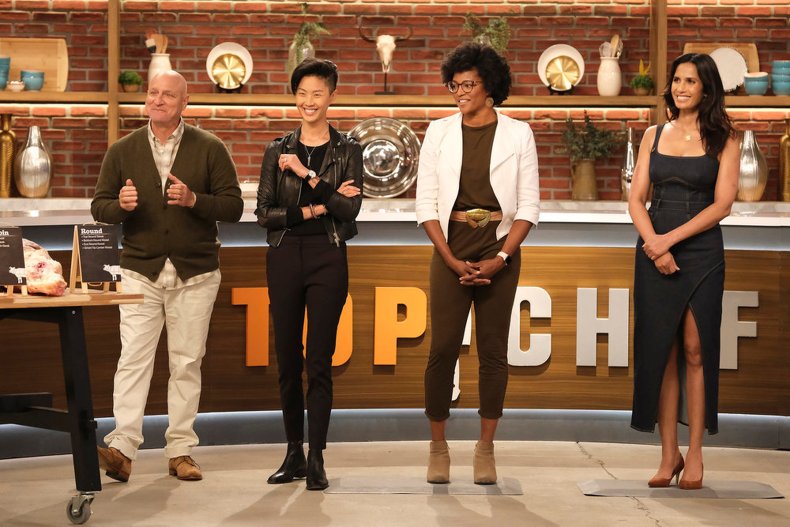 What Happened in Top Chef Season 19 Week 1?
No one wants to be the first to leave the competition after dropping everything to participate in Top Chef. Yet it had to be someone and after two grueling team challenges the judges made their decision on who they wanted to eliminate.
First the cooks battled it out in the first quickfire challenge of the season, which host Padma Lakshmi compared to a trust fall. Teams of three chefs had to work relay style to create a cohesive dish without communicating.
The brown team made up of Jackson Kalb, Robert Hernandez and Sarah Welch made coal-roasted eggplant, macadamia romesco and serrano creme fraiche. Meanwhile, team red—Leia Gaccione, Stephanie Miller and Jae Jung—served the judges Asian spiced pork chop, grilled corn salad and tomato puree with fish sauce..
Team green—Nick Wallace, Evelyn Garcia and Damarr Brown—cooked seared New York strip with creamed corn and charred brussels sprouts. However, the blue team, which consisted of Sam Kang, Ashleigh Shanti and Luke Kolpin, failed to plate up on time, therefore they had nothing to present to the judges.
Instead, it was the yellow team—Buddha Lo, Monique Feybesse and Jo Chan—who impressed the judges with their Thai barbecued beef with salsa verde salad, charred scallions and fish sauce butter meal and were given immunity from elimination.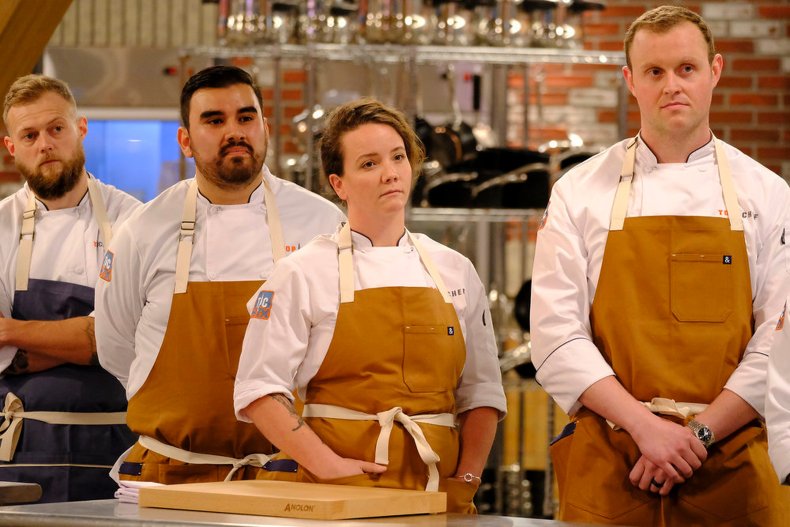 Who Was Eliminated From Top Chef Season 19 and Which Cook Was Named Winning Chef in Episode 1?
For the elimination challenge, the teams had to create a menu featuring primal cuts of beef. They were given $600 to shop at Whole Foods Market and a time limit of 2 hours 30 mins to cook the meal at The Annie Cafe & Bar.
The teams were judged on how cohesive their three dishes were using their chosen cut of beef, as well as how well they worked together. Team yellow was chosen as the judge's favorite team, with Robert from San Francisco, CA named the winning chef.
Unfortunately team red was the judge's least favorite and Leia from Morristown, NJ was asked to pack her knives and leave the competition. On exiting first, she said: "It sucks! You know you don't put your life on hold to compete in the most prestigious cooking competition to be eliminated in the first challenge."
She added: "I made some very rookie mistakes. I was not focused, I did not pay attention to details. It was not my best day and it was me… I'm a fighter, don't count me out just yet."
Leia could return to the competition if she wins the Last Chance Kitchen, where eliminated chefs are given the opportunity to prove themselves and be given the chance to return to the competition.
Top Chef Season 19 airs weekly every Thursday on Bravo at at 8/7c.